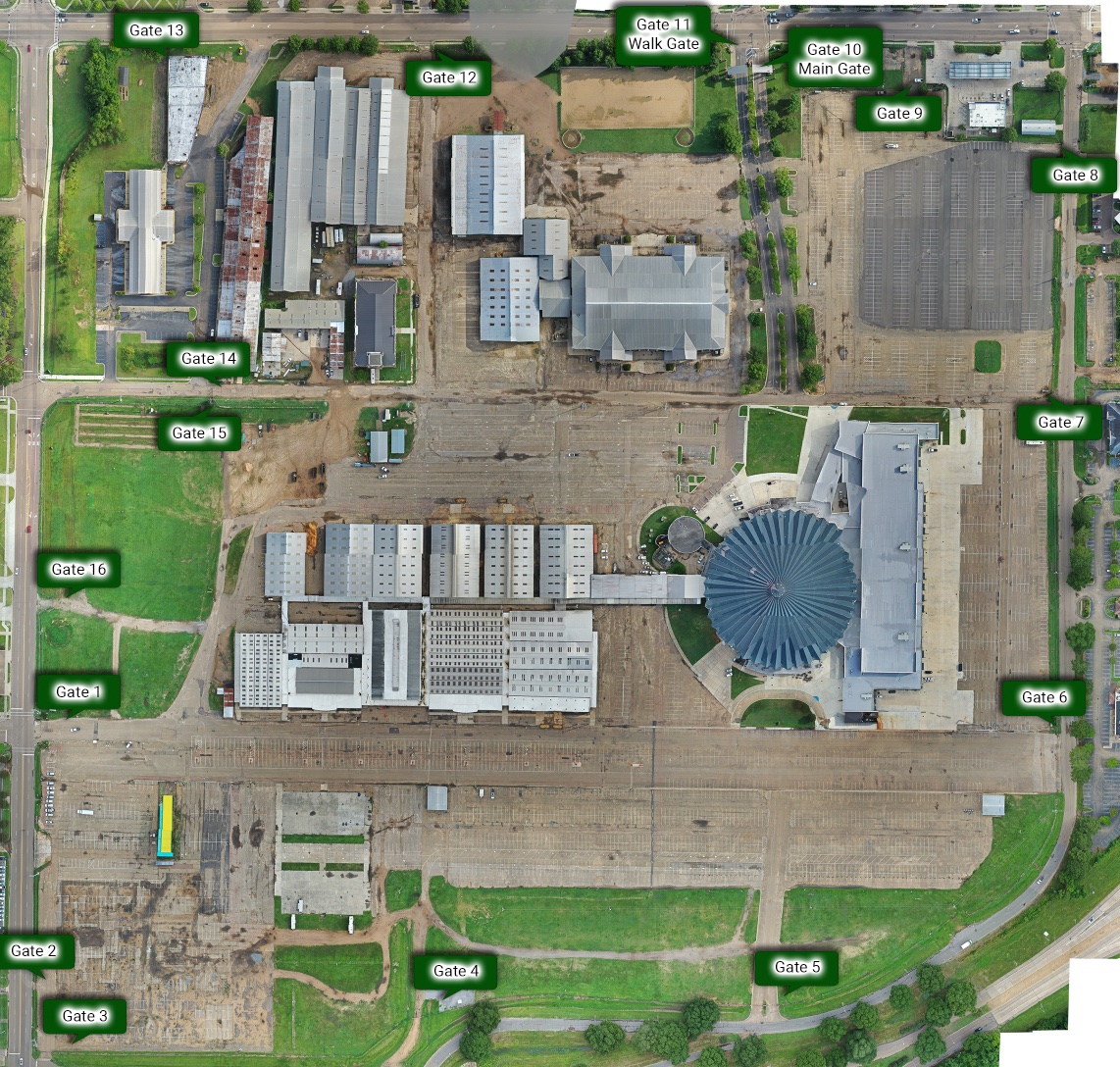 1 - Mississippi Coliseum
2 - Mississippi Trade Mart
3 - Barn 3
Size: 120

′

 

x 182

′

Sq. Ft.: 21,840

Stalls: 112 metal stalls

Storage area and rest rooms

Speakers in barn

Electricity: 110/220 volts, single-phase
4 - Barn 4
Outdoor, covered riding arena

used for practicing and warming up your animal

130'x180'
5 - Kirk Fordice Equine Center
6 - Barn 6
Size: 93

′

 

x 162

′

Sq. Ft.: 15,066

Seating Capacity: 320

Two offices heated only

Public address system available

Building may be set up with pens for hogs and sheep

Electricity: 110/220 volts, single-phase
7 - Barn 7
Size: 99

′

 

x 163

′

Sq. Ft.: 15,066

Stalls: 58 temporary, 127 permanent

Temporary office in arena

Seating Capacity: 168

Three wash racks

Public address system available

Electricity: 110/220 volts, single-phase by direct hook-up only
8 - Barn 8
Size: 163

′

 

x 107

′

Sq. Ft.: 17,441

Stalls: 134

Public address system available

Seating Capacity: 220

Four wash racks
9 - Barn 9
Size: 163

′

 

x 100

′

Sq. Ft.: 16,300

Stalls: 120

Speakers in barn

Electricity: 110 volts only
10 - Barn 10
Size: 100′ x 163′
Sq. Ft.: 16,300
Stalls: 112
Speakers in barn
Electricity: 110 volts only
11 - Corral 11
Size: 163′ x 110′
Sq. Ft.: 17,930
Stalls: 81 stalls can be set up in barn. Has 1 office and 1 storage area.
Public address system available
Electricity: 110/220 volts, single-phase direct hook-up only
12 - Barn 12
Size: 182′ x 215′
Sq. Ft.: 39,130
Tie Spaces: 484
Wash racks in barn
Seating Capacity: 561 in sales arena
Heating and air conditioning in sales arena area
Public address system available
Electricity: 110/220 volts, single-phase and three-phase direct hook-up
13 - Barn 13
Size: 215′ x 162′
Sq. Ft.: 34,830
Tie Spaces: 507
Wash racks inside barn
Rest rooms
Speakers in barn
Electricity: 110/220 volts, single-phase available direct hook-up
14 - Barn 14 Judging Arena
Size: 198′ x 120'…Show Arena 91′ x 121′
Sq. Ft.: 23,760 (entire judging arena)
10,011 (show arena)
Seating Capacity: 830
Three offices
Public address system available
Electricity: 110/220 volts, single-phase and three-phase direct hook-up
15 - Barn 15
Size: 183′ x 160′
Sq. Ft.: 29,280
Tie Spaces: 500
Wash racks inside and outside
Rest rooms: Men's showers in restroom area.
Office space in barn
Electricity: 110/220 volts, single-phase and three-phase direct hook-up
16 - Barn 16
Size: 93′ x 162′
Sq. Ft.: 15,066
Tie Spaces: 202
Speakers in barn
Electricity: 110/220 volts, single-phase
17 - Biscuit Booth
23 - Barn 23
Size: 300′ x 300′
Stalls: 513
Indoor wash rack
28 - Propane Refill Station
Purchase refills for propane tanks at the Coliseum Box Office.
30 - Outdoor Riding Arena
Outdoor, uncovered riding arena
used for practicing and warming up your animal
170'x300'
Contact Us
Get In Touch Anytime!
Email, call, fax or fill out the form to the right and we'll do our best to get your questions answered.
Our Address
1207 Mississippi St, Jackson, MS 39202
About the Fairgrounds
The Mississippi Fairgrounds Complex covers over 105 acres and hosts more than 700 events per year. With various facilities for exhibitions, trade and consumer shows, you will find all the elements to make a truly successful event, along with Mississippi's tradition of hospitality. The complex is an integral part of beautiful downtown Jackson, where the charm of the old and new South blends to form a modern city with a wealth of activities and cultural attractions. The Fairgrounds Complex is truly one of the South's most inviting locations for practically any attraction or event.